Vous retrouverez dans cette faq les réponses aux questions que l'on me pose de manière régulière sur mes différents réseaux sociaux. Si toutefois vous avez une interrogation, vous pouvez me laisser un commentaire.
You will find here answers to the questions that are often asked on my different social networks. However if you have any question, please let me know in comments.

Quelle est ma formation?
What did I study?
J'ai une formation de graphiste multimédia (webdesign, 3D, print, vidéo, etc.) et je suis autodidacte en dessin et illustration, même si j'essaye régulièrement de consolider mes connaissances avec des formations (storyboard, anatomie, etc.).
I studied graphic design (webdesign, 3D, print, video, etc.) and I am self-taught in drawing and illustration, although I regularly try to consolidate my knowledge with formations (storyboard, anatomy,etc.).
Depuis combien de temps je dessine?


How long have I been drawing?
Comme beaucoup d'illustrateurs, je dessine depuis que je suis en âge de tenir un crayon, mais je dessine quasi quotidiennement depuis 2009.
Like a lot of illustrators, I have been drawing since I was old enough to hold a pencil, but I draw almost daily since 2009.
Je n'ai pas ton talent, comment faire pour bien dessiner?
I do not have your talent, how could I draw well?
D'après moi le talent c'est surtout de vouloir dessiner. Le dessin c'est 20% de talent et les 80% restants c'est le travail et les efforts que l'on met dedans. Si vous combinez ces deux éléments, vous ferez des progrès en dessin et peut être même que vous deviendrez le dessinateur que vous voulez.
In my opinion, talent is above all to want to draw. Drawing is composed of 20% talent and the remaining 80% is the work and effort that you put into it. If you combine these two elements, you will make progress in drawing and maybe even you will become the drawer you want to be.

Comment progresser en dessin?
How to progress in drawing?
Selon moi, on ne peut progresser en dessin que si l'ont dessine régulièrement. Je pense que dessiner tous les jours est idéal, surtout que l'on peut dessiner partout: dans les musées, dans les transports en commun, chez soi, etc. De plus je vous conseille d'apprendre les bases en dessin (perspective, anatomie, morphologie, etc.). Vous pouvez prendre des cours ou apprendre par vous-même.
In my opinion, you can't progress if you don't draw regularly. I think drawing every day is ideal, especially that you can draw everywhere: in museums, in public transportation, at home, etc. In addition I advise you to learn the basics of drawing (perspective, anatomy, morphology, etc.). You can take courses or learn by youself.
Comment trouver son style?


How to find your style?
Je pense que le style vient avec le temps. Je me doute que cette réponse ne vous aide pas beaucoup, mais l'important est de vous inspirer des artistes que vous aimez, c'est en pratiquant que cela viendra. De plus je suis persuadée que même pour les artistes aguerris, le style continue d'évoluer.
I think the style comes with time. I guess that this answer does not help you much, but the important thing is to inspire you artists you love, it is by practicing that it will come. Moreover, I am convinced that even for experimented artists, the style continues to evolve.
Comment trouver de l'inspiration?


How to find inspiration?
Pour moi l'inspiration est un muscle, plus on dessine plus il se développe. Parfois il m'arrive d'avoir de nouvelles idées que je n'ai pas le temps de réaliser tout de suite, dans ce cas, je les note pour les garder de côté pour plus tard et surtout ne pas les oublier.
For me inspiration is like a muscle, the more you draw the more it develops. Sometimes I happen to have new ideas that I don't have time to realize right away, in which case I note them to keep them aside for later and especially to forget them.
Quels sont les étapes de mes illustrations?


What are the steps of my illustrations?
Avant d'attaquer une illustration, je réalise toujours un ou plusieurs croquis. Pour une illustration digitale, je pose les couleurs de base, puis je rajoute les détails ensuite. Personnellement, dépendamment de leur complexité, mes illustrations numériques peuvent être composées de centaines de couches, de cette manière je peux tout modifier. Pour une illustration traditionnelle au marqueurs, je réalise un croquis au crayon de couleur rouge, puis je fais les aplats de couleurs aux marqueurs, puis les détails et pour finir je fais tous les contours et détails au feutre pinceau. Je réalise cette étape en dernier pour éviter que les marqueurs fassent baver l'encre du feutre pinceau.
Before starting an illustration, I always make one or more preparatory sketches. For a digital illustration, I set the basic colors, then I add the details later. Personally, depending on their complexity, my digital illustrations can be composed of hundreds of layers, so I can change everything. For a traditional illustration with markers, I make a sketch in pencil of red color, then I do the main colors with the markers, then the details and finally I make all the contours and details with the brush pen. I do this in this order to prevent the markers smudging the ink of the brush pen.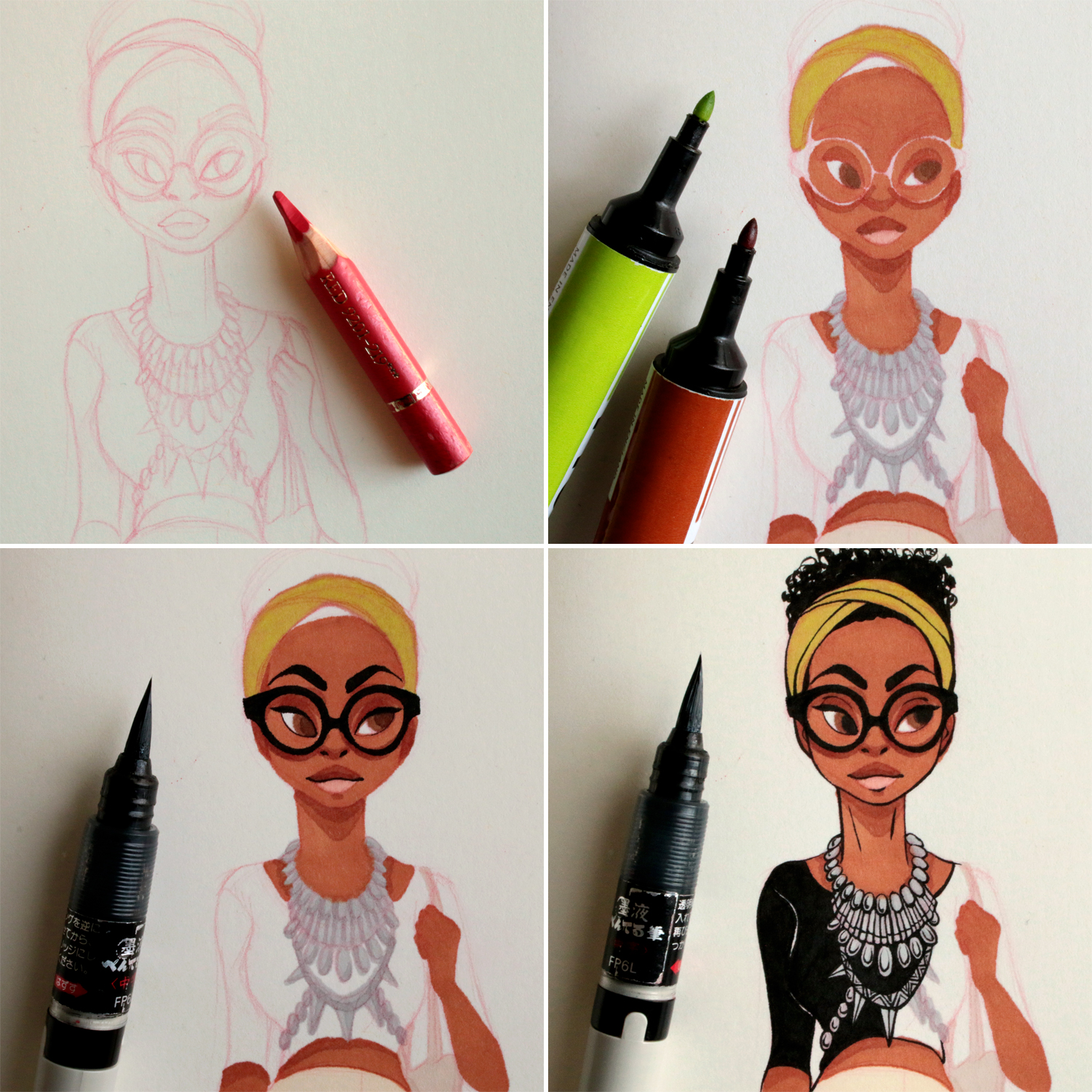 Est ce que je réalise mes portraits parisiens d'après photo?
Are my Parisian portraits based on photos?
Non, j'aime beaucoup observer le monde qui m'entoure. Lorsque je croise une personne que je trouve intéressante, je prends des notes dans le carnet que j'ai toujours sur moi. Je ne vois pas l'intérêt de travailler d'après photo pour cette série.
No, I really like to observe the world around me. When I meet someone I find interesting, I take notes in the notebook that I always have on me. I don't see the interest of working from photo for this series.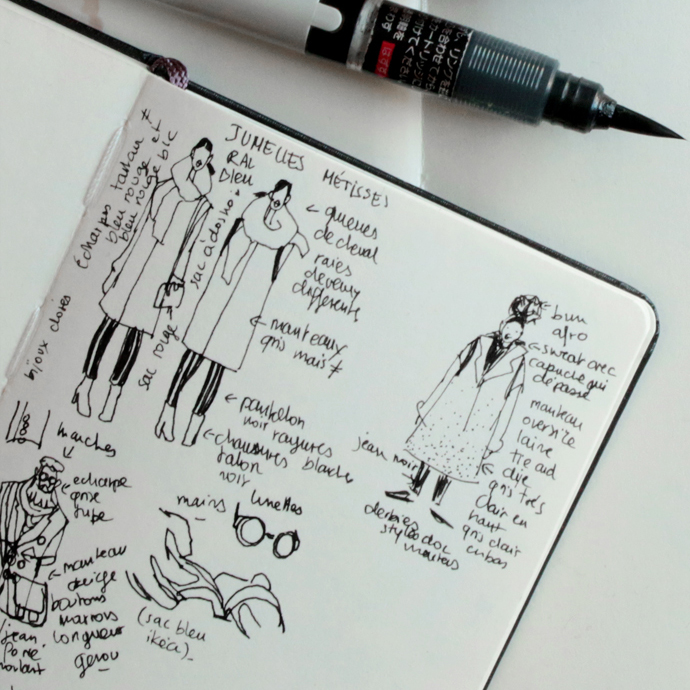 Pourquoi je réalise des croquis au crayon rouge?
Why do I make the sketch with a red pencil?
C'est une préférence personnelle et un truc que j'ai emprunté à l'animation. J'ai dessiné au crayon à papier durant des années, puis un jour j'ai essayé le croquis au crayon de couleur et ça change tout. Je trouve ça moins salissant que le crayon à papier. Si c'est quelque chose qui vous intrigue, je vous invite à essayer par vous-même pour voir si ça vous convient également.
It's a personal preference and a trick I borrowed from animation. I drew in pencil for years, then one day I tried the sketch with a colored pencil and it changes everything. I find it less messy than the pencil. If it's something that intrigues you, I invite you to try it yourself to see if it suits you as well.
Quel est le matériel que j'utilise pour dessiner? What tools do I use to draw?
Voici une liste des outils que j'utilise le plus:
Here is a list of the tools I use the most:

Polychromos Faber-Castell
Parfait pour réaliser des croquis. J'utilie la couleur numéro 121 Pale Geranium Lake. On peut l'acheter à l'unité en magasin d'arts.
Perfect for making sketches. I use the color number 121 Pale Geranium Lake. You can buy it per unit in art stores.

Pentel Brush Pen FP6L
Mon feutre préféré. Sa pointe pinceau est flexible et demande de la pratique. Son encre est d'un noir très profond.
My favorite pen. Its brush tip is flexible and requires practice. Its black ink is very deep.

Pentel Pocket Brush Pen
Sa pointe pinceau est flexible et demande de la pratique. Il est très pratique à transporter.
Its brush tip is flexible and requires practice. It is very convenient to carry.


Sakura Pigma Micro
Ce stylo à pointe tubulaire est parfait pour les détails. Son encre est de bonne qualité.
This tubular tip pen is perfect for details. Its ink is of good quality.

Water Brush
Pratique pour l'aquarelle en extérieur. Grâce à son flux d'eau continu, il permet de réaliser des lavis de bonne qualité.
Convenient for outdoor watercolor. Thanks to its continuous flow of water, it allows to make washings of good quality.

Winsor & Newton Promarker
Pratiques et rapides pour réaliser des applats de couleurs, des fondus et des détails. Pour en savoir plus je vous conseille mon article très complet sur les Promarker.
Practical and fast to realize flattened colors, fades and details. To learn more I advise you to read my complete post about the Promarkers.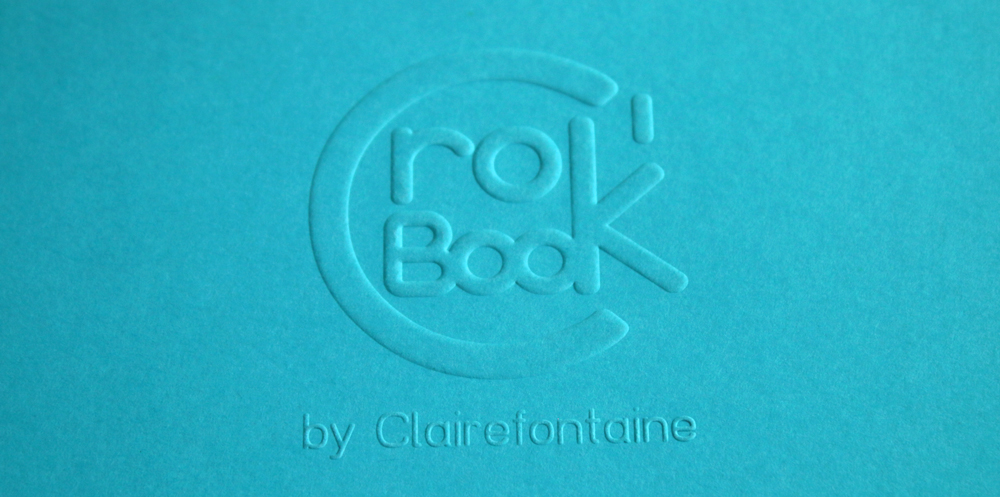 Crok' Book by Clairefontaine
Disponible avec des couvertures de différentes couleurs. Le papier est d'assez bonne qualité et au vu du faible nombre de pages, il se remplit rapidement. Ne pas oublier de mettre une feuille en dessous par ce que les marqueurs traversent le papier.
Available with covers of different colors. The paper is of good quality and given the number of pages, it fills up quickly. Do not forget to put a sheet underneath your page by what the markers are going through the paper.

Moleskine Art Plus
Bons carnets pour dessiner et le croquis. J'utilise un carnet de taille A6, facilement transportable, qui me sert pour mes notes et les croquis en extérieur, ainsi qu'un autre de taille A5. Le papier est assez épais et la couverture solide.
Good sketchbooks for drawing and sketching. I use a sketchbook in a A6 size, easily transportable, which serves me for my notes and sketches outdoors, as well as another one in a A5 size. The paper is quite thick and the cover solid.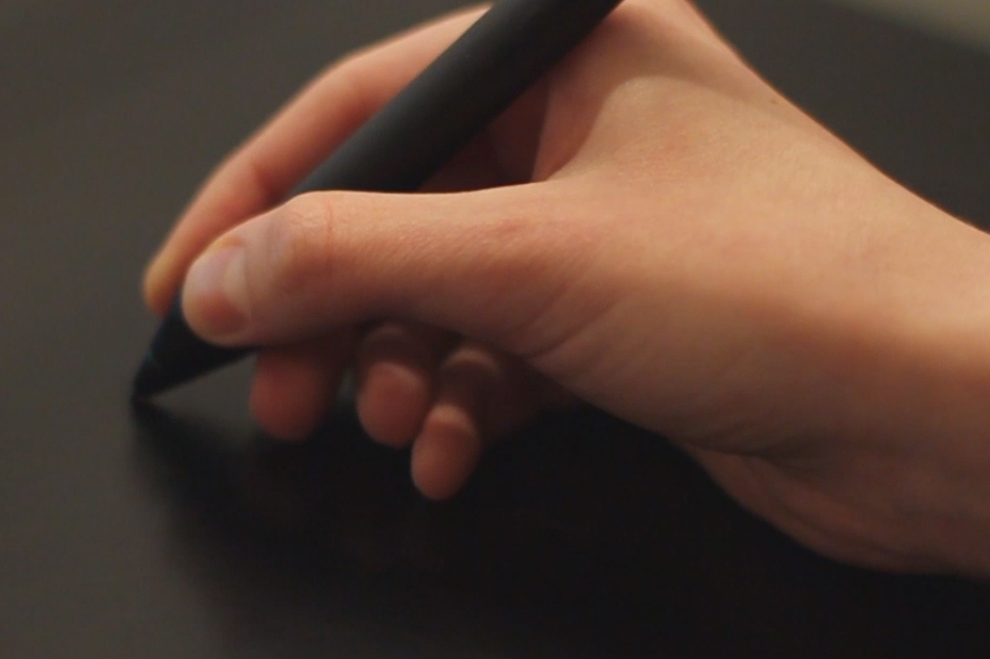 Wacom Intuos 4 L
Je possède cette tablette graphique depuis 2010. Elle me convient très bien et je n'ai jamais eu envie de la changer pour une Cintiq ou une autre tablette plus récente. Elle est solide, dure dans le temps et le format est parfait pour moi.
I own this graphic tablet since 2010. It suits me very well and I never wanted to change it for a Cintiq or another newer tablet. It is solid, lasts in time and format is perfect for me.
Vous avez d'autres questions? Laissez-les en commentaires!
You have more questions?

Leave them in comments!
Enregistrer
Enregistrer
Enregistrer
Enregistrer
Enregistrer
Enregistrer
Enregistrer
Enregistrer
Enregistrer
Enregistrer
Enregistrer
Enregistrer
Enregistrer
Enregistrer
Enregistrer
Enregistrer
Enregistrer
Enregistrer
Enregistrer
Enregistrer
Enregistrer
Enregistrer
Enregistrer
Enregistrer
Enregistrer
Enregistrer
Enregistrer
Enregistrer
Enregistrer
Enregistrer
Enregistrer
Enregistrer
Enregistrer
Enregistrer
Enregistrer
Enregistrer
Enregistrer
Enregistrer
Enregistrer
Enregistrer
Enregistrer
Enregistrer
Enregistrer
Enregistrer
Enregistrer
Enregistrer
Enregistrer
Enregistrer
Enregistrer
Enregistrer
Enregistrer
Enregistrer
Enregistrer
Enregistrer
Enregistrer
Enregistrer
Enregistrer
Enregistrer
Enregistrer
Enregistrer
Enregistrer
Enregistrer
Enregistrer
Enregistrer
Enregistrer
Enregistrer
Enregistrer
Enregistrer
Enregistrer
Enregistrer
Enregistrer
Enregistrer
Enregistrer
Enregistrer
Enregistrer
Enregistrer
Enregistrer